Menegotti has become an increasingly productive and modern company, serving the customer in the shortest time and with world class quality levels.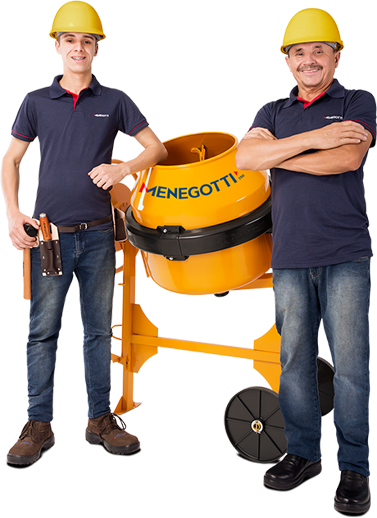 Painting
The powder paint adopted since 2006 allows us to offer high resistance through an electrostatic process. The powder adheres to the parts ensuring protection for much longer. The part undergoes heating and the powder particles melt forming a uniform plastic skin. An ideal solution for protecting metallic surfaces, among other applications.
Welding
It is a process based upon AWS specific international standards, ensuring durability and resistance in aggressive environments. In 2012 the company invested in new robots to improve the quality of the welding in the Menegotti products.
Produtividade
The flexibility of the assembly line allows speedy delivery and facility in composing the product load. With well adjusted and calibrated devices and templates, the Menegotti products are assembled in a standardized manner.
In the case of concrete mixers, the company currently can 4,000 concrete mixers per month, the largest in the domestic market. When we talk about lifting products (winches, mini cranes, rocker) we can produce  up to 150 items of each product / month.